Pretty Mike stirs uproar as he storms Lagos event with luggage box carrying a lady (video)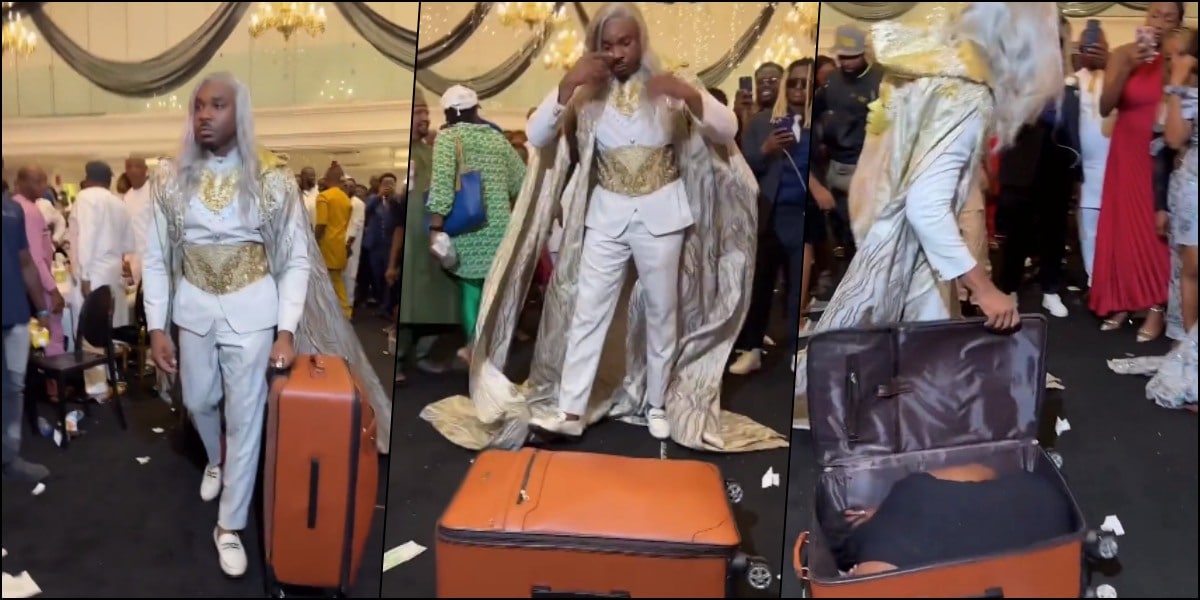 Controversial Lagos socialite, Pretty Mike causes a buzz online as he attends an event with a luggage box that has a grown lady hidden inside.
Pretty Mike, born Mike Eze-Nwalie Nwogu, is known for his controversial entrance at different events which usually arrests the attention of the attendees, and subsequently the attention of netizens who get to see it later.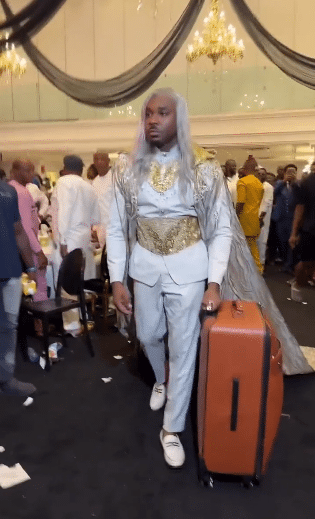 However, netizens have lambasted his display and show off as they conclude that most them are usually demeaning and debasing especially to the womenfolk.
In his most recent display, he showed up to a party carrying a traveling box. He was dressed in an ethereal outfit, and sported a blonde hair.
Pretty Mike was seen gently and slowly rolling the box to the center where he finally set it flat and carefully commenced opening it.
Lo and behold, much to the shock and befuddlement of many, a full-grown lady was seen lying in a fetal position inside the box.
She shot up and then was commanded to her knees by Pretty Mike.
Check out how netizens reacted to this …
@Myrmontana remarked: "There is no greater danger to society than a bored rich man"
@pacifik_cruise wrote: "How are people even endorsing this kind of degradation of a fellow human being just for entertainment!… locking a woman inside a box, what kind of message are you passing across. This is absolute madness!"
@Sir_Blezene stated: "Weyrey, I talk am na woman. E nor just get Belle."
@pacifik_cruise said: "This lifestyle don dey carry am dey go where him no know…😏"
@_IamSAT penned: "Like, nobody for that event fit help me burst one or two bottles on top this guy head?
Everything damn thing about dis guy dey vex me, walai 😂"
Watch the video below …
DOWNLOAD ALSO