Ukraine's president Volodymyr Zelensky reveals he's survived 'six' assassination attempts by President Putin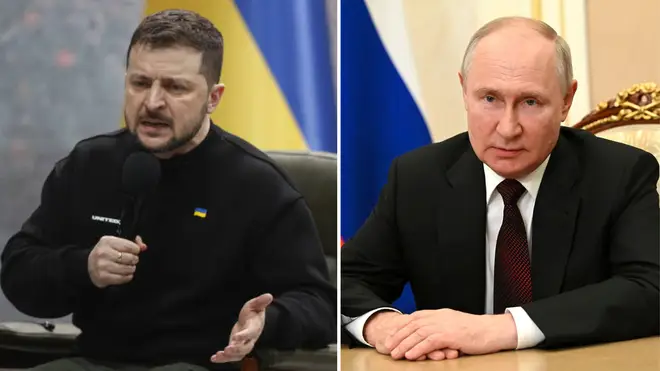 Ukrainian President Volodymyr Zelensky has revealed he has survived at least five assassination attempts by Russian President Vladimir Putin.

He made the revelation to journalists on Monday, November 20.

Mr Zelensky said he did not know exactly how many plots to kill him have been foiled by Ukrainian intelligence services, but claimed Russian forces "will use any instruments they have".

Describing the assassination attempts, he told The Sun: "The first one is very interesting, when it is the first time, and after that it is just like Covid.

"First of all people don't know what to do with it and it's looking very scary.
"And then after that, it is just intelligence just sharing with you detail that one more group came to Ukraine to [attempt] this."

Asked how many attempts there have been to assassinate him, he said: "I don't know, really I don't know. I think not less [than] five, six…not less.
"They will use any, any instruments they have."

Mr Zelensky met representatives of Fox News and The Sun, including Fox Corporation chief executive Lachlan Murdoch, in Kyiv on Monday.
The Sun also reported after the meeting that Mr Zelensky accused the Kremlin of helping Hamas launch attacks in Israel in October, and that the Ukraine-Russia conflict could spiral into a third world war.

He also said Ukraine needs more Western aid and weapons.
According to his website, Mr Zelensky thanked reporters across the globe for garnering support.
"All this time, journalists, cameramen, editors, photographers, drivers have been on the frontline," he said. "As this is a hybrid war, information is also a weapon in Russian hands.

"My sincere condolences to the families and friends of those very brave men and women who lost their lives trying to show what is happening in Ukraine.

"In particular, it is thanks to journalists from many countries that we now have such support in the world."
He also emphasised the importance of keeping the world's attention on the conflict at a time when it is "blurred by other events".
"For some reason, people treat it like a movie and expect that there will be no long pauses in the events, that the picture before their eyes will always change, that there will be some surprises every day," he said.
"But for us, for our warriors, this is not a movie. These are our lives. This is daily hard work. And it will not be over as quickly as we would like, but we have no right to give up and we will not."
DOWNLOAD ALSO